GHOST: New EU-funded research project launched
The project deals with Smart Homes - households in which domestic appliances

and multimedia equipment interact and can be centrally remote controlled. These Smart Homes give rise to diverse and complex cyber-security challenges, on which GHOST reacts using a pioneering, software-compatible and usable security solution. GHOST provides a transparent cyber-security environment for all Europeans living in a networked world: with minimal effort, consumers shall be aware of and understand cyber-security risks and shall make informed decisions regarding their cyber-physical security and privacy.
This project has received funding from the European Union's Horizon 2020 research and innovation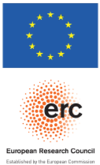 program under grant agreement No GA-740923").
Funding body: European Union (EU)
Partners: Televe, Université de Genève, Centre for Research & Technology - Hellas (Certh), NTNU: Norwegian University of Science and Technology, Imperial College of Science - London, EXUS Software, Kalos Information Systems, Cruz Roja Espanola Fundacion, Obrela Security Industries.
Funding period: 01.05.2017 – 31.05.2020
Contact: Alireza Zarei, Oksana Kulyk, Melanie Volkamer