Privacy Friendly Backup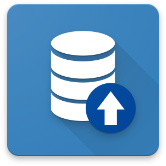 Privacy Friendly Backup is an application that works with other privacy friendly apps to enable backups. The app allows you to create and manage backups. This includes importing backups into the app and exporting backups to external storage media.
The Privacy Friendly Backup app communicates with other Privacy Friendly apps and extracts or injects data into and out of the app to enable the creation and restoration of backups.
The app provides encryption via an interface to another app that provides encryption as functionality via the openpgp-api. The user is free to choose their own encryption provider via the app's settings.
For encryption to work, the provider must be installed externally. We recommend OpenKeyChain, as this app is available in the regular PlayStore as well as in the F-Droid Store and is completely open source.
As with other privacy friendly apps, the app differs from other similar apps in the following ways:
No permissions
The Privacy Friendly Backup does not use any critical permissions
No adertisement
Many other free apps in the Google Play Store dazzle annoying advertising which also shortens battery life.
No user tracking
Privacy Friendly Backup does not collect or relay any user data to others.
Download the App
We offer several ways to download the app:
Official Google Play Store (Feel free to provide feedback, see contact. We would be pleased to receive a positive rating if you like the app)
If you are interested in the development of applications or want to have a look at the source code you can check it on GitHub.
The corresponding API to connect other apps to this backup app can be found on GitHub as well.
Screenshots