Privacy Friendly Pausing Healthily App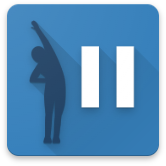 The android application Privacy Friendly Pausing Healthily is an app that allows you to structure your work. It reminds you to take breaks during your work and offers many helpful exercises that can be combined to form exercise sets. The exercises can be performed during your break and help you to pause healthily. The app offers following features:
Timer for work and rest periods: You can choose work and break intervals via the main menu. After the work time is up you will be reminded to take a break. You then are able to start, skip, or postpone the break.
Creation and Choice of exercise sets: Individual exercise sets can be created. This makes it easier to complete your favourite exercises faster. The exercise sets can then be chosen to perform during breaks. There are also predefined exercise sets to ease the start into the app.
Relaxing and stretching exercises: Every exercise has a tutorial and illustrations that help you understand how an exercise is done quickly.
Automatic scheduling of timers: There is a scheduler that allows you to choose specific times and days to automatically start work timers for you. This way you don't have to think about starting the timer manually to be reminded to take breaks.
In the following points the Privacy Friendly Pausing Healthy-app differs from other similar apps:
No permissions
The Privacy Friendly Pausing Healthily App does not use permissions.
No advertisements
Many other free apps in the Google Play Store dazzle annoying advertising and also shortens battery life.
Download the app
We offer several ways to download the app:
Screenshots