Privacy Friendly Boardgame Clock App
Privacy Friendly Boardgames Clock offers stopwatches and timers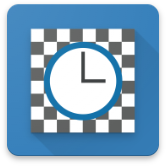 to support time tracking while playing boardgames.
The app offers different modes depending on the game that is played. If the game is round based players and round times can be continued. The app tracks the time that the player needs in each round and alerts the player if he or she takes too much time.
Privacy Friendly Boardgame Clock furthermore offers a time tracking mode. This is a stopwatch for each player that participates in the game as well as for the overall game time.
In the following points the Privacy Friendly Board Game Clock-app differs from other similar apps:
Minimal amount of permissions
Privacy Friendly Board Game Clock requests access to the memory to make a data backup.
For an optional feature the app can use the contact permission to load contact images of people you are playing with.
No advertisements
Many other free apps in the Google Play Store dazzle annoying advertising which also shortens battery life.
Download the App
We offer several ways to download the app:
Google Play Store (Feel free to provide feedback, see contact. We would be pleased to receive a positive rating if you like the app).
F-Droid Store (The F-Droid Store is an open source software store where you can download the APK-file of the app. Apps installed that way won't receive any updates, unless you regularly download the newest version from the F-Droid website or use the official F-Droid Store App).
If you are interested in the development of apps or the source code, you can find it on Github.
Screenshots