Privacy Friendly Memo Game App
The Privacy Friendly Memo Game-app is an implementation of the card game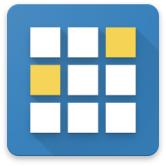 "Memo Game". The goal is to find the same cards in one turn.
The application provides two predefined card decks, as well as the option to select own images from your device. In addition to a single player mode, it is also possible to play in a dual player mode.
Privacy Friendly memo game has three difficulty level:
4x4 cards (overall 16 cards)
6x6 cards (overall 36 cards)
8x8 cards (overall 64 cards)
In the following points the Privacy Friendly Memo Game-app differs from other similar apps:
No permissions
Privacy Friendly Memo Game does not require any permissions. The selection of images is done by a task to the gallery so the app does not have any access to the device's storage without the user's control and interaction.
No advertisement
Many other free apps in the Google Play Store dazzle annoying advertising which also shortens battery life.
Download the App
We offer several ways to download the app:
Official Google Play Store (Feel free to provide feedback, see contact. We would be pleased to receive a positive rating if you like the app)
F-Droid Store (The F-Droid Store is an open source software store where you can download the APK-file of the app. Apps installed that way won't receive any updates, unless you regularly download the newest version from the F-Droid website or use the official F-Droid Store App).
If you are interested in the development of apps or the source code, you can find it at GitHub.
Screenshots