Privacy Friendly QR-Code Scanner
The Privacy friendly QR Code Scanner App allows to use your smartphone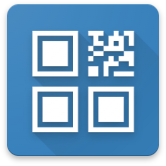 in order to scan and decode QR codes. The app belongs to the group of Privacy friendly Apps. The Privacy friendly QR Scanner App also allows to scan barcodes and supports the following formats: Text, product codes, phone number, SMS, Email-Address, Email, contact information (e.g. vCards), URL and WiFi information.
Our Privacy friendly QR Scanner App differs from other QR Scanner apps availiable in the Play Store with respect to three aspects:
Minimal amount of permissions

In category "Camera/Microphone": CAMERA
The camera is used to scan QR Code.
Note: Please keep in mind, that the Google Play Store only shows the categories of the permissions. Therefore for the permission CAMERA the category Camera/Microphone is displayed, while the app solely used the camera, not the microphone.
In category "Other": VIBRATE and FLASHLIGHT
The vibration is used to provide feedback if the scan was successful. The flashlight is used to support the camera in reading the QR Code successfully in bad lighting conditions.

No advertisement


Many other free apps in the Google Play Store dazzle annoying advertising which also shortens battery life.

Detecting malicious links
QR Codes provide new possibilities for an attacker, as QR Codes can contain malicious links, i.e. links to phishing webpages or webpages from which malware would automatically be downloaded. Therefore it is important to carefully check the link before accessing the corresponding webpage. Since it is difficult for the user to spot malicious links, the Privacy friendly QR Scanner App supports the user by highlighting the domain. To avoid not checking the link carefully, the app provides information about possible fraud and its users need to confirm that they checked the link and it is trustworthy.
Please keep in mind: The warning shown after scanning an URL is not customised for every URL, because the app does not have access to databases or similar sources, used to differentiate between harmful and harmless URLs. Hence, it should be considered as an advice for the user how to behave in general.
Download the App
We offer several ways to download the app:
Official Google Play Store (Feel free to provide feedback, see contact. We would be pleased to receive a positive rating if you like the app )
F-Droid Store (The F-Droid Store is an open source software store where you can download the APK-file of the app. Apps installed that way won't receive any updates, unless you regularly download the newest version from the F-Droid website or use the offical F-Droid Store App).
If you are interested in the development of apps or the source code, you can find it at GitHub.
Screenshots