Privacy Friendly Shopping List App
Privacy Friendly Shopping List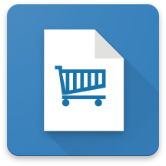 allows you to create shopping lists and manage them, while providing the following features:
Prioritization of the list regarding importance of items.
Setup of deadlines and reminders. The reminder will appear as a notification.
Visualizing of shopping activities through a bar diagram.
Adding of categories, stores and additional notes to products. Possibility to add a product picture. This photo can only be accessed by Privacy Friendly Shopping List.
Sharing of lists and/or products as text without the requirement of special system permissions.
In the following points the Privacy Friendly Shopping List differs from other similar apps:
Minimal Permissions
Privacy Friendly Shopping List does not use any permission for its core functions. Only the camera permission is needed, so you can take a picture for a particular product. If this permission is denied (Android version higher than 6), the feature will not be available. All other features will be at your disposition. For comparison: The Top Ten of similar apps from the Google Play Store , die im Google Play Store requires an average of 6,4 permissions (in November 2016). These are for instance the access to the location or the Internet.
No advertisement
Many other free apps in the Google Play Store dazzle annoying advertising which also shortens battery life.
Full control over your data
All saved data in the statistics can be deleted permanently with just a few clicks. All this data lives only inside Privacy Friendly Shopping List and can not be accessed from outside.
Sharing of list or product data without access of the phone contacts
Download the App
We offer several ways to download the app:
Official Google Play Store (Feel free to provide feedback, see contact. We would be pleased to receive a positive rating if you like the app)
F-Droid Store (The F-Droid Store is an open source software store where you can download the APK-file of the app. Apps installed that way won't receive any updates, unless you regularly download the newest version from the F-Droid website or use the official F-Droid Store App).
If you are interested in the development of apps or the source code, you can find it at GitHub.
Screenshots