Privacy Friendly Solitaire App
Privacy Friendly Solitiare is a Klondike Solitaire Game.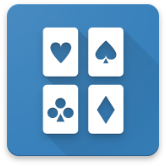 Its goal is to move all cards to the foundations. A detailed description of the rules can be found in the app's help site.
Privacy Friendly Solitaire provides different difficulty levels that draw either one or three cards from the deck. Additionally there are the following versions of counting points:
None: No points are counted.
Standard: The Player starts with zero points, moves give different points.
Vegas: The Player starts at -52 points and tries to get more than zero points, while the deck can only be passed through one time.
The Player can generate an automatic move by clicking the Hint-Button or automatically move all possible cards to the foundation by shaking the device (if it is activated in the Settings).
Addtionally he can undo and redo moves. Optionally he is shown the time of play.
When the game is almost won (meaning that there are no more cards turned face-down), it will finish automatically.
In the following points the Privacy Friendly Solitaire-app differs from other similar apps:
No permissions
Privacy Friendly Solitaire does not require any permission.
No advertisement
Many other free apps in the Google Play Store dazzle annoying advertising which also shortens battery life.
Download the App
We offer several ways to download the app:
Google Play Store (Feel free to provide feedback, see contact. We would be pleased to receive a positive rating if you like the app).
F-Droid Store (The F-Droid Store is an open source software store where you can download the APK-file of the app. Apps installed that way won't receive any updates, unless you regularly download the newest version from the F-Droid website or use the official F-Droid Store App ).
If you are interested in the development of apps or the source code, you can find it on Github.
Screenshots