Privacy Friendly Torchlight App
The Privacy Friendly Torchlight application uses the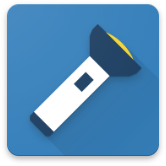 smartphone's flash light in order to provide the functionality of a simple torchlight. It belongs to the group of Privacy Friendly Apps.
In the following points the Privacy Friendly Torchlight App differs from other similar apps:
Minimum amount of permissions
In category "Camera/Microphone": CAMERA
This permission is required to control the smartphone's flash light (on/off).
Note: Another permission exists, namely: FLASHLIGHT. But this permission is not enough, to control the LED of the smartphone. Therefore, in fact, the permission CAMERA is needed, which implicitly allows the access of the FLASHLIGHT permission.
No advertisement


Many other free apps in the Google Play Store dazzle annoying advertising which also shortens battery life.
Download the App
We offer several ways to download the app:
Official Google Play Store (Feel free to provide feedback, see contact. We would be pleased to receive a positive rating if you like the app )
F-Droid Store (The F-Droid Store is an open source software store where you can download the APK-file of the app. Apps installed that way won't receive any updates, unless you regularly download the newest version from the F-Droid website or use the offical F-Droid Store App).
If you are interested in the development of apps or the source code, you can find it at GitHub.
Screenshots