Privacy Friendly 2048 App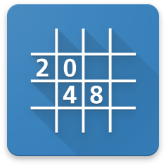 The Android application Privacy Friendly 2048 is an exciting puzzle game. The game is considered to be won if you reach the number 2048 by sliding the same numbers together.
The statistic function is also part of the app. This makes it possible to get information about for example the required number of swipes and the highest achieved number of points.
The Privacy Friendly 2048 has four different game modes:
classic: 4x4
large: 5x5
bigger: 6x6
huge: 7x7
A generator in the background randomly displays one number per round (2 or 4). With the help of these numbers, the number 2048 and even higher powers of two can be gradually reached. For help and tips, please take a look at this website.
This app also offers the possibility to save a game in the respective mode, which allows a total of up to four saved games. Undoing a move has also been implemented in this app. Additionally, a summary of their performance in the different modes can be found in the statistic function.
Our Privacy Friendly App differs from other, similar applications with respect to two aspects:
No permissions
The Privacy Friendly 2048 does not use any permissions
No adertisement
Many other free apps in the Google Play Store dazzle annoying advertising which also shortens battery life.
Download the App
We offer several ways to download the app:
Official Google Play Store (Feel free to provide feedback, see contact. We would be pleased to receive a positive rating if you like the app)

F-Droid Store (The F-Droid Store is an open source software store where you can download the APK-file of the app. Apps installed that way won't receive any updates, unless you regularly download the newest version from the F-Droid website or use the official F-Droid Store App).
If you are interested in the development of apps or the source code, you can find it at GitHub.
Screenshots