Privacy Friendly Game of Dice App
The Privacy Friendly Game of Dice-app can be used to roll the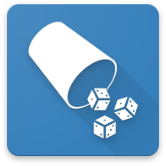 dice. It belongs to the Privacy Friendly Apps group developed by the research group SECUSO at Technische Universität Darmstadt.
The app displays five dice that can be rolled by a button. Particular dice can be saved for the next round by pressing. A round counter supports the game. To play a game of dice, a scorecard is required, this scorecard is not included in the application.
In the following points the Privacy Friendly Game of Dice-app differs from other similar apps:
No permissions
Privacy Friendly Game of Dice does not require any permission.
No advertisement
Many other free apps in the Google Play Store dazzle annoying advertising which also shortens battery life.
Download the App
We offer several ways to download the app:
Official Google Play Store (Feel free to provide feedback, see contact. We would be pleased to receive a positive rating if you like the app)
F-Droid Store (The F-Droid Store is an open source software store where you can download the APK-file of the app. Apps installed that way won't receive any updates, unless you regularly download the newest version from the F-Droid website or use the official F-Droid Store App).
If you are interested in the development of apps or the source code, you can find it at GitHub.
Screenshots