Privacy Friendly Reckoning Skills App
Privacy Friendly Reckoning Skills helps you improving your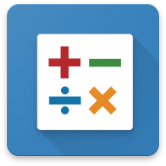 mental calculation skills in the four basic calculating operations.
For each game, the player can choose between the four basic arithmetic operations and four difficulties (exercises up to 10, 100, 1000 and 10000).
After finishing an exercise round the player receives a score which depends on the number of exercises answered correctly and the time it took to answer all ten exercises.
After every game there is an overview which shows whether the exercises were solved correctly. It is also possible to choose "Direct Feedback" in the settings. If direct feedback is chosen, the player will receive feedback whether the exercise was solved correctly after each single exercise.
In the following points the Privacy Friendly Reckoning Skills-app differ from other similar apps:
No permissions
Privacy Friendly Reckoning Skills does not require any permissions.
No advertisement
Many other free apps in the Google Play Store dazzle annoying advertising which also shortens battery life.
Download the App
We offer several ways to download the app:
Official Google Play Store (Feel free to provide feedback, see contact. We would be pleased to receive a positive rating if you like the app).
F-Droid Store (The F-Droid Store is an open source software store where you can download the APK-file of the app. Apps installed that way won't receive any updates, unless you regularly download the newest version from the F-Droid website or use the official F-Droid Store App).
If you are interested in the development of apps or the source code, you can find it at Github.
Screenshots